We will hold a special online symposium as follows.
Date: September 28 (Mon) 16:45-19:00
Theme: "European Intelligence" Jacques Atari, Deciphering "Cities, People, and Worlds" in the With-Corona Era
Application for participation: http://ptix.at/iN7uQ8
※Online live distribution, free participation, capacity 1,000 people 4,000 people (increased due to popularity)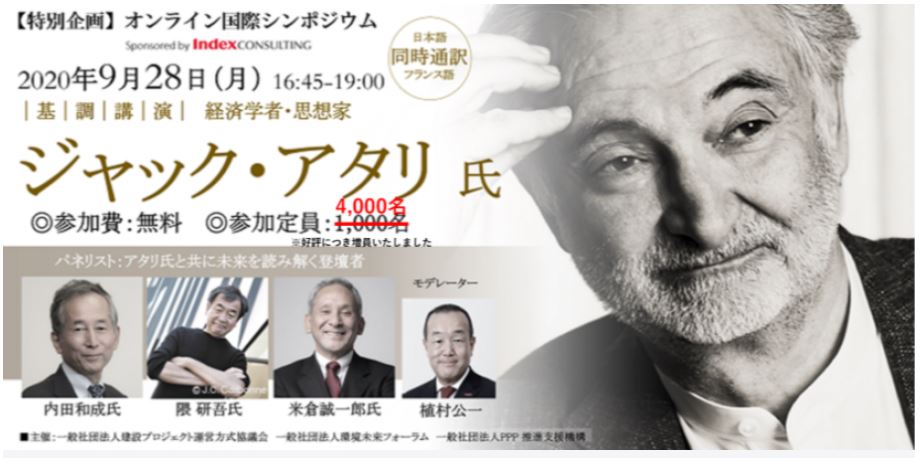 French philosopher and economist Jacques Attali was invited to give a keynote speech, and architect Kengo Kuma, Waseda University Business School professor Kazunari Uchida, and Hitotsubashi University specially appointed professor Seiichiro Yonekura took the podium for a panel discussion. Then, Mr. Atari will talk about the city, people, and the world in the age of COVID-19.
This symposium is co-hosted by this organization, the Construction Project Delivery System Council, and the Environmental Future Forum.
With the support of Index Consulting, Inc. , we have made the event free of charge so that as many people as possible can participate.
We have opened the following website, so please apply for participation.
Application for participation: http://ptix.at/iN7uQ8
This is a unique opportunity to listen live to Mr. Atari, who is said to be "the greatest intellect of our time."
We would appreciate it if you could widely inform everyone involved.
Symposium leaflet 

---