The 5th meeting of the OPPS Forum was held on April 15th for the purpose of mutual exchange and information sharing among members. Due to the influence of the new coronavirus, it was the first remote meeting using Zoom. A total of 30 people from 10 regular member companies and 2 associate member companies participated.
There was a report on the international forum that I participated in in February, a report on project screening tool development, a survey report on construction-related companies, and information sharing on new overseas PPP projects. In the future, it will continue to be difficult to hold meetings in one place, but we will proceed with project formation using screening tools.
<FY2019 5th OPPS Forum Program>
1. Opening
2. Introduction of attendees
3. Review handouts
4. Theme
① International Forum Report (Secretariat) 
 ・Report on the US-Japan Infrastructure Forum (February 6)
 ・10th World Urban Forum (February 8-13)
 ・Examples of smart cities around the world
② COGITE Screening Tool Completion Report (Secretariat)
③ Survey Report: "Current Situation and Strategies of Construction-Related Companies Expanding Internationally" (Secretariat)
④ Member company introduction New overseas PPP project (IC)
⑤ Report (Secretariat)
 ・Overseas PPP project progress report
 ・OPPS PPP seminar held report
 ・Future plans (general meeting, next forum)

5. Q&A and opinion exchange

6. Closing
Post:2020年4月16日
Category:
---
The 2nd OPPS Seminar, "Fundamentals of Overseas Infrastructure Investment Practices," was held on April 9th. Due to the influence of the new coronavirus, it was held as a webinar using Zoom. 34 people participated remotely, mainly from full member companies.
The lecturer was Mr. Hitoshi Sasaki, Executive Officer and Managing Director of Deloitte Tohmatsu Financial Advisory LLC. He talked about "from project formation to implementation" in an easy-to-understand manner based on his practical experience. The third meeting is scheduled for April 22nd.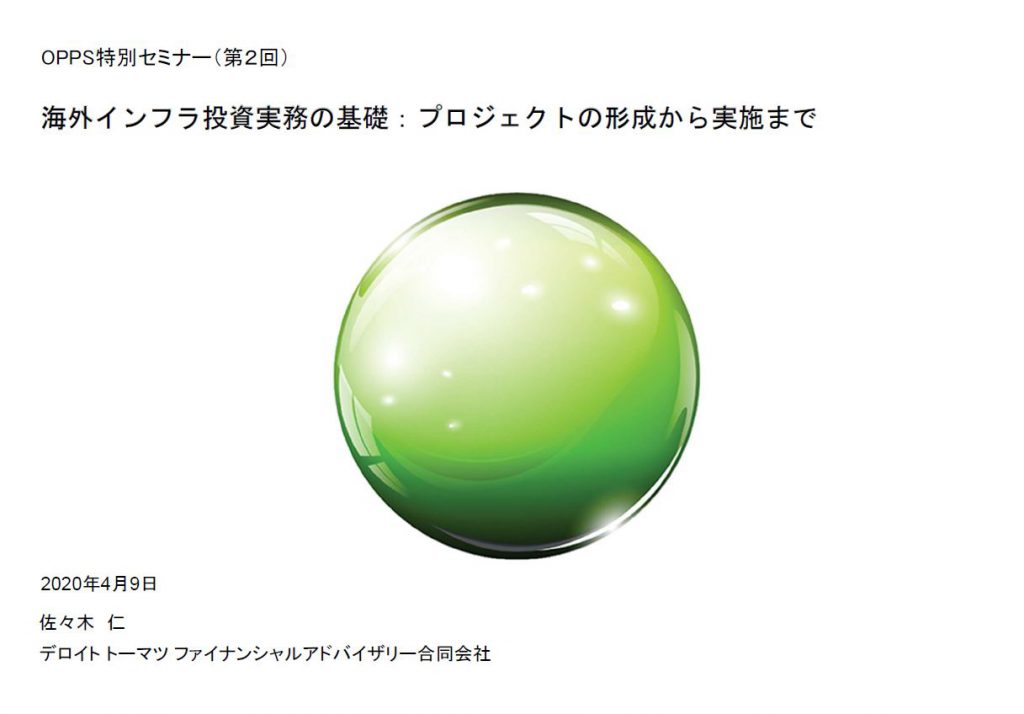 Post:2020年4月10日
Category:
---