We are happy to announce that OPPS, commemorated its inaugural meeting together with a celebration party in Tokyo on December 21, 2018.
12 founding members, several associate members and other participants attended the ceremony and approved four discussion items: OPPS Conventions, Accounting Regulations, Business and Financial Plan and Board Members. In the inaugural meeting, Prof. Yamauchi of Hitotsubashi University and Mr. Uemura ,adviser for Aichi Pref. were appointed as the OPPS president and the vise-president respectively.
More than 50 participants attended a celebration party, including Administrative Vice-Minister for Ministry of Land, Infrastructure, Transport and Tourism, Mr. Mori and Vice-Minister for Engineering Affairs, Mr. Kikuchi. Mr. Uemura read a congratulatory message on behalf of Special Advisor to the Prime Minister, Mr. Izumi.
To support the development and project formation of overseas infrastructure PPP/PFI business, OPPS will implement the following actions:
・Information sharing and business screening
・Consortium coordination and formation
・Negotiation assistance with relevant government agencies
・Awareness building activities and human resource development
President Yamauchi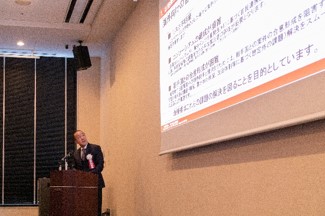 Vise-president Uemura
Post:2018年12月21日
Category:
---