2019 Regular General Meeting
2019 Regular General Meeting
 On April 10th, 2019, we are proud to announced that a regular general meeting of Organization for PPP Promotion Support aka "OPPS" was held in Tokyo, Japan.
 In the front of the representatives attending of 14 members of corporations including the new member of Nippon Steel Corporation, two agenda of "Business Report, Business Balance, and Financial Statements in the fiscal year of 2018" and also "Formulation of Business Plan and Budget of 2019" were approved respectively.
 We reported, regarding the OPPS activities of 2018, that we had the inaugural meeting in December, opened a new website for OPPS, and was creating the original screening systems for PPP projects. Subsequently, a current status of progress of PPP in Japan was explained. As for the new activity plan of 2019, Mr. Okumura, a Chief of Overseas Project Division of MLIT(Ministry of Land, Infrastructure, and Tourism), and Mr. Uemura, a Vice president of OPPS provided some information of  how to proceed these projects from now on.
 We confirmed that in this brilliant year of the new Japanese era of Reiwa, we would try hard to get the promising PPP projects information from various source over the the world for the first memorable year of PPP in Japan. The information of some projects should be given to the members as soon as received, and also, we are planning to have OPPS forum bi-monthly to facilitate the communication among the OPPS members and related government offices.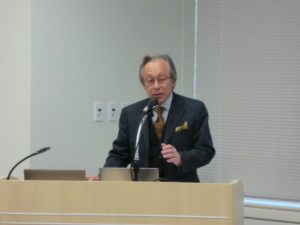 Prof. Yamauchi, President of OPPS
---